WBU Suet Cylinder Feeder
Our Naturally Nuts™ No-melt Suet Dough Cylinder is an easy, long-lasting way to offer a high-energy, high-fat food to your birds. Long-lasting and easy to use, this suet contains peanuts, rendered beef suet, corn and oats. Simply place the Cylinder in our Decorative Seed Cylinder Feeder (pictured below) or Dinner Bell feeder and watch a variety of perching and clinging birds, especially woodpeckers, enjoy.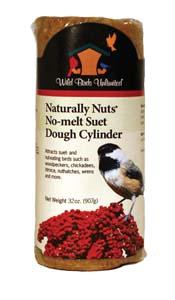 Offering suet at a backyard feeding station is a great way to attract a wide variety of insect-eating birds. Birds that eat suet will still find natural food sources such as insects, insect eggs and grubs to get a well-rounded diet. This No-melt Suet Dough is rendered and refined to remove impurities that cause spoilage, and it's designed to withstand temperatures up to 130° F.
Try our WBU Suet Cylinder to attract a variety of suet-eating using our two types of suet cylinders--Naturally Nuts and Peanut Butter and Jelly.